Spandan Military Grade ECG
Reliable heart health monitor for tough terrains
At ₹17,999/- Inc. all taxes
Combat heart issues with
Spandan Military
Conducting ECG at remote camps might be challenging due to the lack of proper medical facilities. However, the Spandan Military Grade ECG is tailored for such challenges. It is designed with a special resilient coating that protects it from moisture and dust, making it durable even in tough conditions. With its compact and convenient design, this remarkable device allows for easy and hassle-free ECG monitoring.
Military-Oriented Features
Versatile features for timely diagnosis of nation's heroes
Now you can take real-time ECG on your smartphone, regardless of extreme heights or challenging conditions.
As it is a battery-less innovation, it requires no battery or internet connection to function, making it suitable to use at any given location.
Spandan Military Grade ECG has a clinical accuracy of 99.7%, which gives the clearest ECG traces and helps in timely diagnosis.
A highly durable device with robust hardware to monitor your heart rate easily and battle heart issues.
This device has a special hydrophobic coating on the PCB for moisture, dirt, and vibration protection, which makes it perfect for harsh weather.
We crafted the highest-grade components for the utmost performance and reliability.
Zero-defect devices and a shockproof special protection case for easy handling even on rocky grounds
The users on local servers have control of their data, and no data is shared with Spandan servers.
Complete Cardiac Diagnosis

for the Armed Forces
Spandan Military Grade ECG offers advanced medical grade tests that you can easily take on your smartphone. You can easily detect blockages, arrhythmias, and other cardiac abnormalities. You can also take live ECG and check stress and anxiety levels.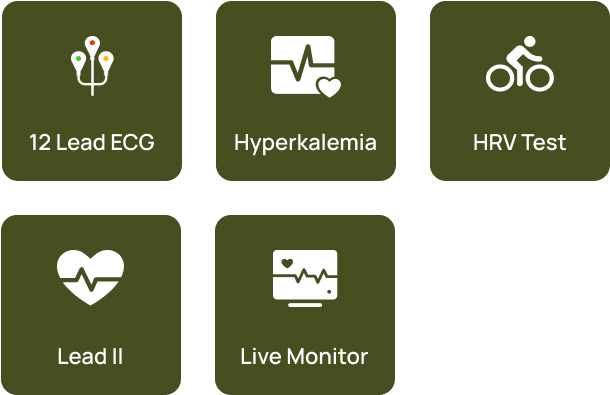 Frequently Asked Questions
Where we aim to provide answers to the common questions you have.
Catch early signs of
heart problems
With the help of Spandan Military Grade ECG, you can detect your heart abnormalities early for a quick diagnosis in the initial stage.